Posted: September 15, 2019
Filed under:
Uncategorized
Leave a comment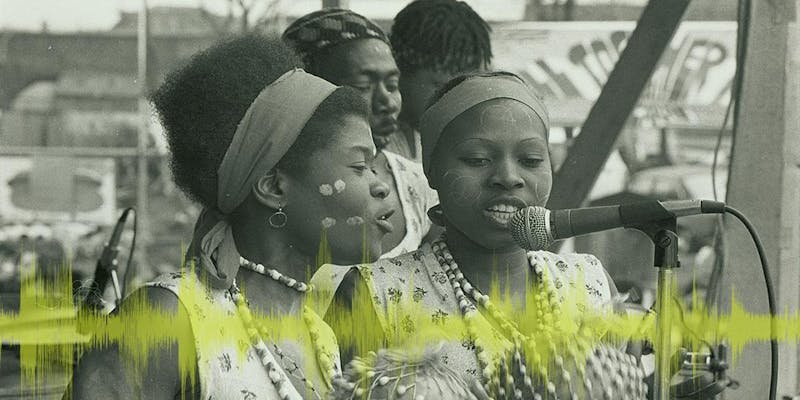 Hello you. A rather hurried post this week to invite all those of you located within convenient distance of Farringdon to attend Sounds and the City: The Late Sessions, occurring this Wednesday at London Metropolitan Archives as part of the Unlocking Our Sound Heritage project that I'm currently involved with. The title is only partially accurate – the event commences at 6pm, which is still early afternoon as far as my bodyclock is concerned – but it is indeed London and its multitudinous soundscapes that will be the order of the day, as I'm chairing a discussion with a panel of invited experts, each asked to play and talk about a particular song that best represents the city to them. Audience participation is strongly encouraged and attendees will be invited to join in and nominate their own London songs. Tickets are FREE, though spaces are limited and you'll need to register on the Eventbrite page. There may even be tea and coffee supplied, though I'll need to look into that.
Anyway, here's the official blurb: Unlocking Our Sound Heritage (UOSH) is a National Lottery funded project aiming to preserve the UK's most rare and at risk sound recordings. Here at London Metropolitan Archives (LMA) we are proud to be one of ten regional hubs for the UOSH project, digitising and cataloguing some of the capital's most extraordinary audio collections.
Inspired by the different types of music we've digitised as part of the project, this FREE evening talk will explore how important music is to our experience of London and understanding of its history. We will be joined by a panel of guest speakers who will each pick one piece of music that represents London to them. From old music hall songs to the influence of calypso, ska and reggae, through to the emergence of jungle – all music is welcome! Ahead of the talk we invite you to think about the type of music you most associate with the capital. What would be the playlist of your London?
Can you, dear reader, guess which person will be talking about Jungle?! Hope to see you there, and do make sure you pop your thinking caps on and tell us about your own favourite London song – or add to the conversation over on the LMA Twitter feed if you can't make it in person. Speaking of Twitter, do feel free to subscribe to @LdnMetArchives if you haven't done so already, along with our London's Sound Heritage blog it's the best way of keeping up to date with this most fascinating of projects. To whet your appetite here are a couple of highlights from the tapes I've recently been working with, starting with this little beaut from the 1950s. The subject in question was the speaker's memories of being a Prisoner of War and the tricky decision as to how to spend one's incarceration – playing bridge or improving one's mind via classic literature, with access to both apparently not being an issue at all – sounds pretty cushy. And while it's true that reverence for the content of these tapes always takes precedence over the physical carrier itself, on this special occasion it was a pretty close call:
Exciting day on #SaveOurSounds as we find our first ever tape reel made from oxide-coated PAPER. This recording, purportedly from 1952 hasn't dated nearly as badly as you might think. That said, can you work out the opening line of speech on this 'magic ribbon'? @BLSoundHeritage pic.twitter.com/jaBpxwwNnD

— LdnMetArchives (@LdnMetArchives) September 5, 2019
https://platform.twitter.com/widgets.js
Secondly, the most recent addition to our regular #TapeBoxTuesday feature, which has been making me laugh all week. There's actually another two full minutes of this lengthy account on the recording, hopefully I'll get to share the full thing with you at some point. The Brent County Show of 1977 really must have been quite a happening:
'There was a fight in one of the flower tents…'

This week's #TapeBoxTuesday comes from 'Brent In Sound', a 1977 magazine for members of the community who have a visual impairment. In this edition, there's high drama at the Brent Country Show: @BLSoundHeritage #SaveOurSounds pic.twitter.com/OP89OJlwld

— LdnMetArchives (@LdnMetArchives) September 10, 2019
https://platform.twitter.com/widgets.js
Meanwhile, over the the blog we have an interview with Mr. Ian Rawes of the London Sound Survey, to celebrate both the donation of a huge body of his recordings to the London Metropolitan Archives and also the recent release of Thames, his superb LP of field recordings made along the great river. Ian chats to UOSH project volunteer and sound recordist Paul Skinner about the origins of the project, his work capturing the many and varied sounds of the city, the changing nature of the London soundscapes and there's even some tips for aspiring field recordists too. Read their fascinating chat in full here.
---
Posted: September 2, 2019
Filed under:
Uncategorized
Leave a comment
Hello you. It's taken me a fortnight to finally upload some of Victoria Hasting's magnificent black and white photos (and the rather super video above) from The Delaware Road – Ritual and Resistance, the fabulous audio-visual extravaganza that recently took place in a military training facility deep within MOD land in the heart of Wiltshire at the behest of Buried Treasure supremo Alan Gubby. I must apologise for such tardiness, but the fact is it's only now that I've finally had some time out to process it all – surely I can't be the only one who took a few days to come back down afterwards?!
It's certainly true that a lot of attendees will have slept deeply the following Sunday night – there was an awful lot of cross-country trekking, plus camping, plus a very late bedtime on Saturday after the eye-and-ear-blogging spectacle finally ended sometime around 4am. But the bleary eyes and sleepy smiles of those milling around drinking much-needed coffee the following morning spoke of just what a night they'd had – a testament to Alan's vision and the growing community of artists, performers, musicians, producers, DJs, film-makers (plus strange characters in green facepaint) that it brings together from across the land. I think it's fair to say that the three Delaware Road events so far (including the previous 2017 event at Kelvedon Hatch 'Secret' Nuclear Bunker) have played a vital role in forming this largely disparate collection of artists and labels from all over the UK into a genuine scene, creating new support networks and forging countless collaborations and alliances on the way.
Speaking personally, this event was like a massive holiday camp crammed not only with a huge number of my favourite artists but a lot of my best friends too. My biggest regret of the night was just how many of those performances I had to miss. But with justifiable reason – Howlround and Merkaba Macabre (aka A Creak In Time director and synth tinkerer Steven McInerney) were playing our first ever collaborative set inside the largest of the so-called 'Stone Tents' (squat concrete psuedo-houses dotted around the site that looked for all the world like something out of a Protect and Survive video) and frankly the preparation and execution of such a set took up an awful lot of valuable dancing/drinking/ear-boggling time.
Totally worth it, though, I'm delighted to report the set went down a storm and the Stone Tent was full to bursting – indeed I'm told that a number of people missed our performance because they couldn't physically fit inside the room!
Over the last few months I've been experimenting with creating more rhythmic, beat-driven tracks, using the same closed-input feedback loop techniques that fuelled the last Howlround LP The Debatable Lands, but attempting this time to create something not a million miles away from wonky acid techno. This was the first time the fruits of those experiments had been tested in public on a big system and I have to say it sounded pretty banging, particularly with Steve's modular synth drones and squelches over the top. Every time I looked up it was just a sea of faces and nodding heads (with even some 'dancing a bit like a tree' where space permitted) and the crowd gave us a proper ovation when we'd finished. Even earned me a hug from Steve Davis! What a wonderful thing to have such a supportive turnout, it certainly gives us the confidence to keep moving in this direction!
Due to lack of space, I've only included a handful of Victoria's photographs (plus a couple of colour pictures of my own that I had to resort to after she took it into her head that driving all the way back to London at 1am was a solid plan), but there are many more online and I would urge you to visit the official album on Facebook. I believe there might even be more video footage of Howlround and Merkaba Macabre forthcoming, once it's been mixed with the desk recording. More news soon…
As for other highlights, I'll leave those to Bob Fischer's Haunted Generation site and also DJ Food's blog, both of which provide more in-depth reports of happenings elsewhere in the festival and plenty of additional photographs. But I think I can safely say it was the best night of the year so far and possibly the best since the previous Delaware Road, truth be told. And I think we can all agree that DJ Food and Steve Davis was the perfect high to end on. Crumbs, I don't think I stopped smiling all night. Not sure they did either!
There are an awful lot of people I need to thank, starting with Victoria for these photographs (and many more besides), Steven McInerney for bringing the whole Psyché Tropes room together, our endlessly cheery, accommodating and unflappable technical crew Billy Pleasant and Henrique Mattias, Hanzo on visuals, fellow performers Mark Vernon, A'Bear, Sculpture and of course whoever it was that remembered to bring beer. I could go on. Basically, it was thanks to a Herculean effort on behalf of all of these people that the room looked and sounded so great and remained so busy all night. Very proud to have been part of such a fantastic team!
I must also say a huge thank you for the absolutely saintly efforts of Karina Townsend in squeezing five people and all of our equipment into her van, getting everything safely there and back, providing us with all the tents and camping equipment we could possibly want and being delightful company as usual in the process. Karina, what would we have done without you?! I still don't know how we fitted everything in…
But I think the biggest thank you of all has to go to this man, Mr. Alan Gubby, whose feverish imagination dreamed the entire thing up and whose determination and grit brought so many people together from all over the country to produce one of the finest festivals this tape-manipulator has ever attended – no doubt at not a little cost to his own sanity! The Delaware Road community salutes you, Alan! Now, when are thinking of holding the next one..?
---