Posted: November 26, 2019
Filed under:
Uncategorized
Leave a comment
Hello you. First off, what a fabulous evening at the launch of Projected Music, the brand new 5" lock-grove picturedisc by Sculpture at the Hackney Old Baths last week! Featuring live sets by Miriam Rezaei, Janek Schaefer and the zoetrope-bashing due themselves, plus a performance by a whopping great ensemble of no less than 26 turntablists. In keeping with the concept of the launch, the many-headed group featured one performer for each of the album's locked grooves, including myself and many friends and comrades such as DJ Food, Graham Dunning and Chloe Frieda to name but three. All gamely engaged in noisy battle and much messy fun ensued:
My pictures are pretty rubbish as I was juggling my phone with one hand and a portable turntable with the other, but Pierre Bouvier Patron and Blanca Regina captured some fabulous images of the evening that can be viewed on Flickr.
Surely one of the finest nights of the year and in the company of so many friends too! Projected Music is now available to purchase and features an additional digital bundle of reinterpretations by Philip Jeck, Maria Chavez and others. As this is very much a 'modular' release it was always the intention for the grooves to be combined and remixed in different ways, so I would heartily endorse acquiring multiple copies and getting together with a bunch of your friends and creating your own versions. It's tremendous fun!
Congratulations are also in order to Steve for picking up another award for A Creak In Time at the Instanbul International Film Festival. Astonishing to think that almost three years on from completion, this micro/macro stroll across the universe still continues to gather plaudits across the festival circuit! Copies of Howlround's soundtrack, together with download and streaming links for the film can be purchased here. A busy year for Psyché Tropes once again!
Speaking of awards, further congratulations to Michael Umney and the Resonance team for having their recent Radio 4 documentary 'In Tooth And Claw' recognised by the prestigious Association of International Broadcasting. Presented by Charles Foster and featuring incidental music I composed for the occasion using Michael's field recordings, this 'Highly Commended' documentary exploring mankind's frequently violent relationship with the natural world can still be heard here. And anyone else with a documentary they need sound-tracking with some recordings of haunted nature are strongly advised to get in touch, I've developed quite a taste for this work!
On a slightly jollier theme, some time ago I was approached by Mr. Ian Holloway of Wyrd Britain and asked if I would be interested in contributing to regular feature on this esteemed blog, in which various artists, writers and other like-minded individuals are asked to pick '3 Wyrd Things' and write about them. The only rule was that the three items in question – a book, a record and a film or TV series – all had to be of British origin. I duly obliged – indeed might even have got slightly carried away – and my selections can be found here, featuring spies, pies and a really quite bonkers vinyl surprise. Thanks to Ian for the invitation – a visit to the Wyrd Britain website is always an agreeable way to pass the time, as is his checking out his long-running Quiet World label.
Howlround are gearing up for a final trio of shows before the end of the year, after which I've promised myself I'll knuckle down and start actually trying to knock the next album into shape. First up on December 17th is a collaboration with Mark Peters for the Sonic Cathedral event Opening The Box Of Delights at The Social on London's Little Portland Street. It's a special event celebrating the release of Mark's cover version of the title music from the spooky 1980s drama series of the same name, so we're teaming up to provide an improvised soundtrack to this cult 1980s classic. Original score was by Radiophonic Workshop legend Roger Limb, so no pressure! Mark is also about to release a new festive EP Winterland and they'll be a DJ set by Maps, so do join us if you can. I've never yet managed to make the machines sound remotely festive but this might yet be the miracle breakthrough. Tickets are available here.
After that I'm heading north on December 20th for a very special return visit to my friends at The Kirkgate Centre in Shipley, playing alongside Reet Maff'l, GRST and more. Had a fantastic time with these guys earlier this year and I must say it really is very decent of them to invite me back after I blew up the PA…
And lastly, very excited to announce that The Heartwood Institute and I will be returning to Carlisle's Vinyl Café for our third annual Winter Solstice Soundscapes event on December 22nd. We've even got a special guest joining us for the occasion, but Mum's the word on that for the moment…
As the year draws to end, I realise it will soon be time to once again unleash another of my highly-opinionated Best Of Year Mixtapes upon a grateful world; and with 2019 being such a fantastic year for music (though very, very little else, as ever) it's going to take a real Herculean effort to try and squeeze all of the amazing stuff I've heard this year into a manageable three-hours. So while breaths are bated and anticipations quiver, I thought I'd freshen your collective palettes by wheeling out my Best Of 2018 Mix again. Not only because it contains two-hundred-and-twenty-something minutes of ABSOLUTE BANGERS, but also because I feel the mix didn't quite receive the place in the sun it deserved at the time; belatedly arriving several days into the new year as it did, thanks to my little niece taking advantage of the Christmas period to give the entire family some lesser shade of the black death. So it's back on the block and your warmly advised to dive in. If the opening gambit of Soundhog, Twelve Hour Foundation and Daphne and Celeste doesn't turn you on, then why would you even be here?
And finally, A Year In The Country's latest compilation The Quietened Journey has just been officially released, featuring Howlround's most abrasive track of the year, 'Thrown Open Wide'. But that might be a bit much for our semi-festive purposes here today, so I'll leave you instead with Pulselovers' fabulous opening track by way of an appetiser. A copy of this, the Sculpture disc and that Mark Peters single would make some rather fine early Christmas presents for yourself, don't you think?
PS You know what would also make a fantastic Christmas present for the rest of us? Kicking the Tories out. Please don't forget to vote this week!
---
Posted: November 15, 2019
Filed under:
Uncategorized
Leave a comment
Hello you. Winter's properly drawing in, isn't it? Whatever your thoughts are on how much darker and colder it's got since I last posted, we're entering the perfect season for some spooky story-telling, and what better location than the 19th Century splendour of St. Mary's Tower in Hornsey? It's the latest from Sam 'Sinister Masterplan' Enthoven's Shivers events, featuring a pair of classic spine-chillers told live by the great Lara de Belder with appropriately eerie sonic accompaniment by Sam and myself, all in the cosy-yet-suitably gothic environs of The Intimate Space. Limited tickets and further information here.
On a similar spooky theme, two new and exclusive Howlround tracks appear on Witchcraft & Black Magic In The United Kingdom, the latest release from Eighth Tower Records which arrived just in time for Halloween and features further exclusives from Grey Frequency, Rapoon and Daniel Williams amongst others. Initially a collaborative curation between Daniel and label head Raffaele Pezzella, this compilation has sadly ended up becoming a tribute after Daniel's very sudden passing earlier this year. Raffaele's determination in bringing this project to fruition in his honour is a credit to them both, and the resulting compilation, featuring two of Daniel's own compositions, a worthy contribution to his legacy. Limited edition CD and DL out now and available here.
[A] chilling collection of All Hallows's Eve horrorphonia, a little something touched with a hauntologists bleakness and certainly ripe for companion listening with similar audio manifestations escaping the A Year in the Country, Woodford Halse et al soundhouses […]  'Crypt of St John' marks the first of two appearances by Howlround, this 'un an eerie subterannic drone-r not unlike the more outsider-esque moments from the Wizards Tell Lies back catalogue, much like some haunted echo from the past it imparts a cold and harrowed bitter sweet aura that imagines some annual ceremonial gathering of the lost. Equally graced in the macabre, 'Peck in the Crown' is shadowed by an unsettling sinister touch that many familiar with the Aetheric imprint, notably the Kindred Spirits and Hole House releases, will feel a familair isolationist tug. Mark Losing Today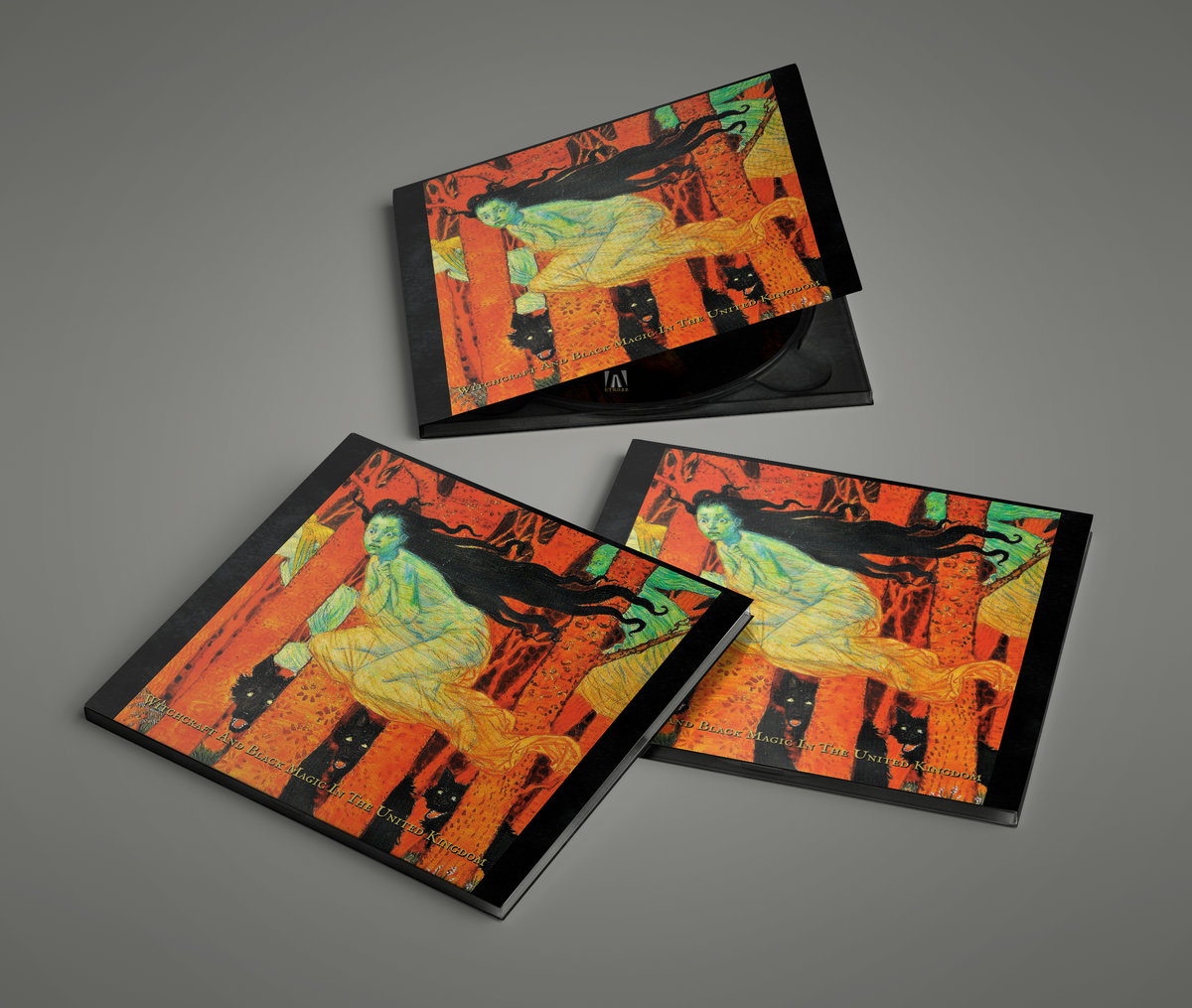 Daniel's 2017 album Meet Me On The Corner is also very worthy of your time, while Raffaele's considerable output both solo as Sonolgyst and as head of the Unexplained Sounds Group is the perfect soundtrack for whiling away a winter's evening. Hopefully this compilation will encourage its listeners to dig even further…
There's exciting album action elsewhere too, with highly esteemed blog, record label and publishing house A Year In The Country about to round off another busy twelve months with its third themed compilation of 2019. The Quietened Journey is 'an exploration of abandoned and former railways, railway stations and roads, a reflection on them as locations filled with the history, ghosts and spectres of once busy vibrant times', and features another Howlround exclusive, 'Thrown Open Wide'. The original plan for this contribution was to try conjuring up some of my own youthful railway memories such as the twinkling enthusiasm of childhood hero Bob Symes, the sombre, elegiac tone of 80s docu-series The Train Now Departing; and even perhaps the odd hazy recollection of a distant past when travelling on a train made you a 'passenger' rather than a 'customer' and a trip to the facilities didn't involve an encounter with a wise-cracking toilet. Further inspiration was to be sourced from a very small part of railway history right on my childhood doorstep: a former branch line-known as 'The Dandy', these days a footpath and one I must have traversed hundreds of times over the years, often in the company of a whirling pack of dogs. Closed since 1923, it now provides the perfect location for a walk in the country, a spot of quiet communion with nature and of course some field recording – if you can ignore both the whirling dogs and the bypass that tears through the centre of it all…
Nature is slowly reclaiming, or has already reclaimed, much of this infrastructure, with these testaments to industry and "the age of the train" being often left to quietly crumble and decay. The Quietened Journey is both a celebration and a lament for these now faded links across the land, of the grand dreams and determination which created them and their layered histories that – as these asphalt ribbons, steel lines and stone built roads once prominently were – are threaded throughout the twentieth century and even back to Roman times.
With these things foremost in mind, I set about planning a work that would somehow transform all of the above into a piece of warm, fuzzy, sepia-tinted bucolica – you know, like the stuff Howlround used to put out back in the days before I discovered the joys of turning all the dials up and just leaving them there. Almost entirely predictably, however, those dials had their way and I got the exact opposite of my intentions: 'combustion, wreckage, rust, rage, anguish'. What started out as my attempt to conjure the ghosts of railways past now might actually be Howlround's most uncompromisingly abrasive work to date. It sounds less like a quietened journey and more a giant combustion engine smashing and tearing itself to pieces. Perhaps all those years of being forced to use Virgin Trains are finally taking their toll on my battered psyche?
Or perhaps there were some darker memories at play. The title comes from the 19th Century poem 'An Engine Driver's Epitaph', found in a school library book and accompanied by an illustration of cold, rusting locomotives sat in a scrapyard; which to a child of faintly melancholic sensibilities was like peeking into a slaughterhouse. Then there's all the archive Pathé and British Transport Films footage I've watched over the years of engines being torn apart by welders and angle-grinders in a shriek of metal and a shower of sparks, name and number-plates carelessly tossed aside. Then there's that terrible fizz-bang at the climax of Keith Chegwin-fronted school safety film Robbie, where our hapless mop-top protagonist finds out the hard way what a third rail is for. Or every single horrifying second of John Krish's The Finishing Line…
All such questions of inspiration aside, what I can tell you is that these three minutes of hissing, spitting and snarling were recorded in a single take and to my mind pretty much sums up not only the present state of Howlround, but also the present state of our railways – and come to think of it, the state of absolutely bloody everything else. How I wish Cheggars was here to cheer us all up with one of his terrible jokes. Anyway, The Quietened Journey is now available to pre-order in the usual series of beautiful hand-made editions, featuring music from old friends such as  Pulselovers, Sproatly Smith, The Séance, Widow's Weeds, The Heartwood Institute, Depatterning, Field Lines Cartographer, Dom Cooper & Zosia Sztykowski, Keith Seatman, A Year In The Country and that chap Grey Frequency once again. Need I say more?
In other news, very excited to announce that Ian Rawes of the London Sound Survey will be joining us at London Metropolitan Archives for the next instalment of the Unlocking Our Sound Heritage event 'Sounds and the City: The Late Sessions' and will be playing some recordings from his fascinating archive of London Soundscapes. Proceedings kick off Wednesday 20th November at 6pm (hence the inverted commas – it's really not very late at all). I've attended several of these talks over the years and always come back for more – Ian has some of the finest period recordings I've ever heard and is one of those people who could turn reading out a shopping list into a sublime and exciting narrative, so this is absolutely not to be missed. Tickets are FREE and in short supply – get yours here.
Join us Wed 20 Nov from 6pm and immerse yourself in the soundscapes of London – its wildlife, traffic and street cries. What story do these sounds tell us about 20th century life in the capital? @LondonSounds

Book now – https://t.co/G5EH6z5iCt @BLSoundHeritage #sound

— LdnMetArchives (@LdnMetArchives) November 12, 2019
https://platform.twitter.com/widgets.js
Speaking of London Met Archives, thanks to everyone who came down to The Barbican for our recent presentation 'Sounds Moving In Different Directions – The Far Out Music of a 1970s Classroom'. As representatives of the UOSH team, my colleague Kate and I lead an investigation into the strange and charming world of 'Creating Music In Class', an educational box set discovered in the archives of the Inner London Education Authority (ILEA) and featuring a series of experimental classroom instructions, psychedelic graphic scores and mind-bending sounds captured on reel to reel tape. This box set would've offered students and teachers alike a rare brush with the world of avant-garde sound and free-form improvisation – pretty advanced stuff for 1976. There's also a certain John Baker credited as 'audio producer/editor' and we're almost certain it's the Radiophonic Workshop legend himself at the helm. Sadly, at the moment that's all I'm permitted to disclose, but there's some pretty amazing sounds on these tapes and the fact that it was aimed at – and in places created by – children aged 10-13 only makes the whole thing all the more tantalising. Hopefully I'll be able to share more with you before very long. In the meantime, here's a enticing glimpse of the box's contents thanks to the previous week's LMA Twitter feed:
📣 This Sunday our UOSH team will be delving into the Inner London Education Authority audio archive at the @BarbicanCentre Archive Residency

✅ Experimental classroom instructions
✅ Psychedelic graphic scores
✅ Mind-bending soundshttps://t.co/dvL4yWQlAy #SaveOurSounds pic.twitter.com/rWx7DIQZGq

— LdnMetArchives (@LdnMetArchives) October 18, 2019
https://platform.twitter.com/widgets.js
The presentation culminated in a performance by musician and instrument builder Lia Mice, interpreting one of the box's graphic scores using one of her own sound-making creations. We very much hope that the box set will encourage new creativity in the future and inspire fresh generations of music-makers, so getting Lia involved seemed like an excellent opportunity to set the ball rolling. The results were as intriguing as anyone who has witnessed her recent live shows, including a storming set at The Delaware Road would have anticipated. Hopefully I'll be able to share that with you before long as well. In the meantime, here's a video from her latest album The Sampler As Time Machine:
Actually, there is one more thing I can share – we used a couple of extracts in our talk from this wonderful film of slightly awkward children making experimental sound collages at the behest of groovy 60s teachers in Shoreditch. It's entirely likely that if you're a regular round these parts you'll have seen this video numerous times already. But is it even possible to get tired of it? I come back to this video quite regularly as a palate-cleanser, a reminder that I need to keep my game up if I'm going to hold my own against a bunch of kids from half a century ago:
---