Posted: October 22, 2016
Filed under:
Uncategorized
Leave a comment
Hello you. Crumbs, it feels like my feet have barely touched the ground this last week. The above recording was extracted from a marathon ninety-minute tape loop session broadcast live from the Radio Revolten studio in Rathausstraße as part of their month-long series of experimental broadcasts, performances, installations, workshops and much more taking place throughout October in the city of Halle, Germany. It was tremendous and chaotic fun and I have it on good authority that people were tuning in from as far afield as Catalonia, Ohio and Wales to savour the beautiful chaos of threading up four machines with slightly wonky tape loops and trying to keep them in order. Sadly, it being a radio broadcast, they didn't get to also enjoy the equally beautiful mess we made of the studio:
The previous evening we had performed in the adjoining Club Revolten concert space to a packed house alongside legendary percussionist Chris Cutler and electronics whizz Víctor Mazón Gardoqui. As well as broadcasting it live, the good folk of Radio Revolten have podcasted our set in full for your enjoyment and you can also read an intriguing review by the artist Gabi Schaffner (who also took these photos) here.  
"Loops are such strange things…or (better maybe) concepts? In one way they are limited, and in another way they are endless. In one way they connect to the myth of the Eternal Return, and in another way – like in modification or decay – they present an ongoing series of variations that mimic almost physiological processes […] Some of them recalled recordings made underwater, some howled like FM tones, some just hovered under your active awareness like a foggy notion. Close to the end of the concert a series of "standing waves" piled up, slowly, one after another, and collapsed in slow motion … a showdown of acoustic phantoms reeling in epical dissolution."
Thanks to everyone who came down or tuned in and thanks to Knut, Sarah and the Revolten team for not only having us but for giving us our own office in which to conduct a marathon two-day cutting and splicing workshop in preparation!
Despite all this relentless activity, which also included my marathon, non-stop, five-hour DJ set for local cinema Kino-Zazie, there was still time to enjoy excellent performances from Mary Stark and Willem De Ridder plus film screenings and a bespoke programme from the Full Of Noises archive curated by Glenn Boulter. There was even time for a field trip to inspect the transmitter, perched on a tower high above the town, which required a slightly terrifying trip up a spiral staircase hanging precariously off the parapet. Worth it just for the view over Saxony-Anhalt!
Anyway, Radio Revolten continues broadcasting on FM, AM and online until the end of the month, so do tune in. I'm particularly looking forward to catching 'Dead Air Spaces', a new bespoke work by Radiophrenia's Mark Vernon on the evening of the 25th at 8pm (7pm UK time). Mark also very kindly gave me a copy of his latest LP Lend An Ear, Leave A Word, a project that mixes field recordings of contemporary Lisbon with vintage recordings from tapes, micro-casettes and dictaphones found in one of the city's flea markets. It's great!
The sleevenotes list the source material as including drunken conversations about stolen car parts, baby recordings, crying in a public toilet, pouring sparkling wine, wowing, fluttering, crosstalk, feedback, pause button clunks etc., and in Mark's hands these recordings soon mulch and ferment together, particularly on the second side where the sounds leave their moorings completely and set course for uncharted territory. It's perhaps his finest work to date. More information on both his performance and this album can be found at his own Meagre Resource website here. Take my advice and order yourself a copy of the vinyl quick!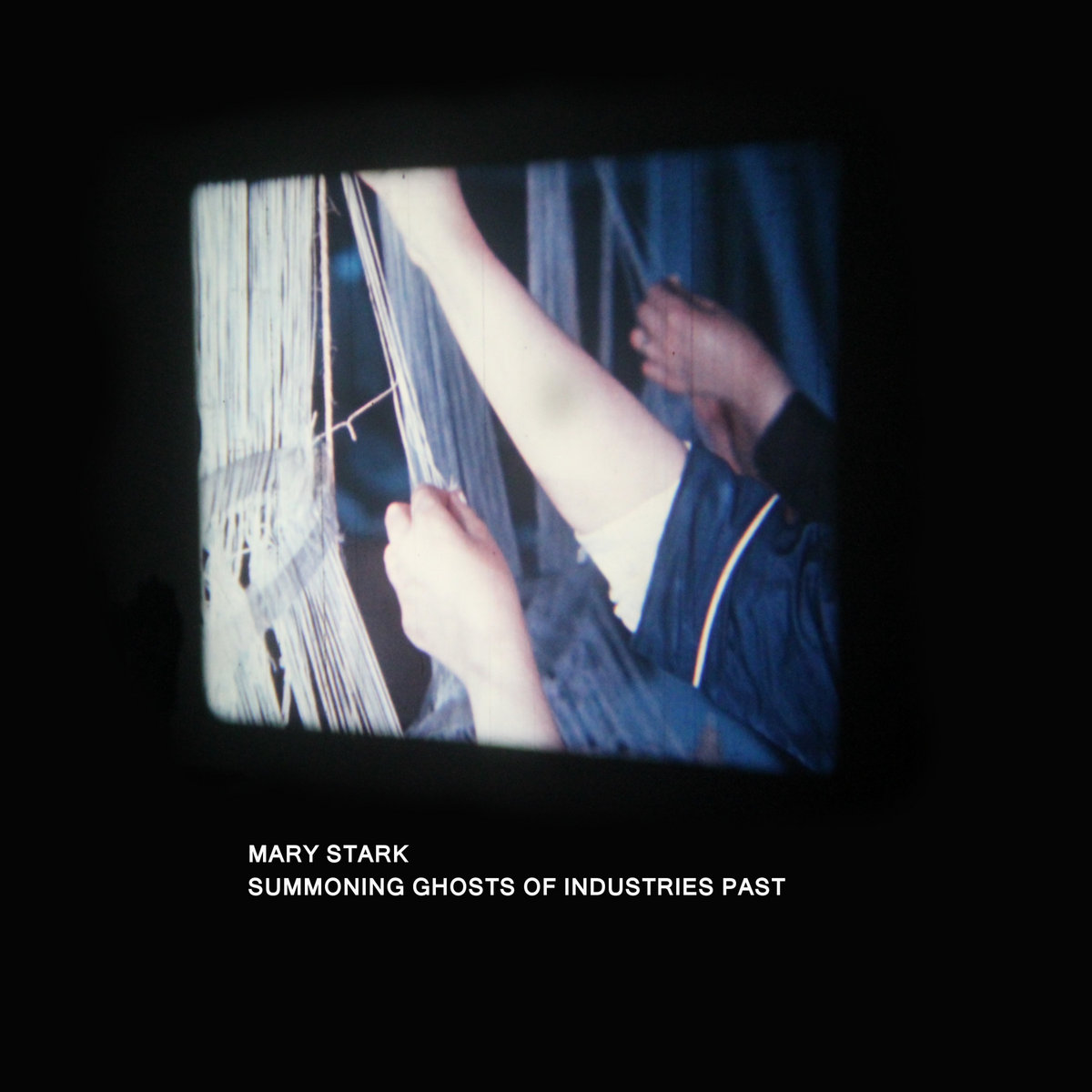 In fact, while we're discussing recordings made by fellow performers, I must also plug Mary Stark's Summoning Ghosts Of Industries Past, a limited edition cassette on Graham Dunning's Fractal Meat label that covers subject matter very similar to her performance at Club Revolten, projecting hand-cut loops of 16mm film and mixing the optical sound with field recordings and amplified sowing machine to create beautiful eulogy to bygone industries and obsolete technology. It's thrilling to watch her put it together live, of course, but the recordings are equally worthy of your attention. Only a tiny handful of copies left – be quick!
Speaking of recordings for sale, I did manage to find half an hour to sneak out for a quick browse in a local record emporium before the broadcast, returning with an armful of intriguing East German synth, scholastic and soundtrack bits and bobs that I shall endeavour to share with you anon. In the meantime, this brings us rather neatly back to the UK and to this week's edition of Near Mint, which pays a return visit to the record bag of legendary collector, mash-up merchant and analogue synth-tinkerer Ben Soundhog:
Featuring this week some Ashe Bohsle, some Keith Mansfield, another banking jingle that unblushingly demands of its listener 'why not get rich?' and lastly, perhaps ultimately, a tragic spoken word disco monologue from this chap:
For those of you reading from faraway lands or those classed as 'millennials', Benny was a loveable simpleton empliyed as a handyman at the Crossroads Motel, a famously awful soap opera filmed on a budget of about £10 which ran on British Television for far, far too long and, despite it's appalling production values remains fondly remembered nationwide by women of a certain age. So popular was it, in fact, that not only did my dear old Grandma Fog refer to it as 'me programme' when it came on, (and woe betide anyone who interrupted it to ask for a biscuit), but it's legions of fans propelled this single and it's blundering hat-bothering narrator to the giddy heights of number 39 in the British Hit Parade. Crumbs, Britain in the 1970s must have been a strange place…
Right, I was supposed to proof-read this before posting, but I'm meeting Father Fog and promised him a Halloumi Burger, so this will have to do for the moment. Typos, bad links and other complaints dealt with on my return…
---