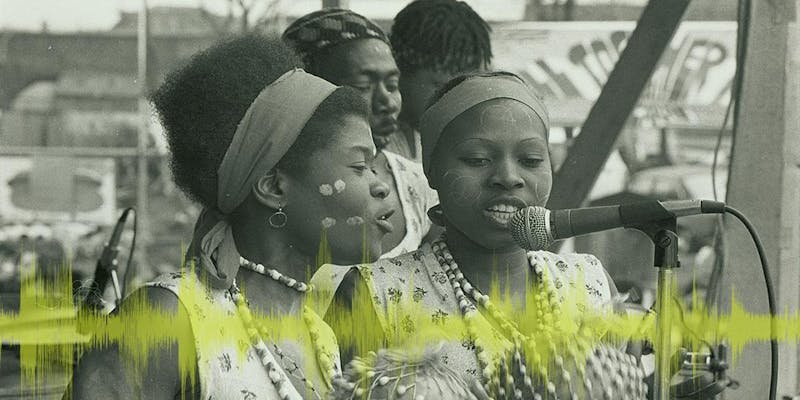 Hello you. A rather hurried post this week to invite all those of you located within convenient distance of Farringdon to attend Sounds and the City: The Late Sessions, occurring this Wednesday at London Metropolitan Archives as part of the Unlocking Our Sound Heritage project that I'm currently involved with. The title is only partially accurate – the event commences at 6pm, which is still early afternoon as far as my bodyclock is concerned – but it is indeed London and its multitudinous soundscapes that will be the order of the day, as I'm chairing a discussion with a panel of invited experts, each asked to play and talk about a particular song that best represents the city to them. Audience participation is strongly encouraged and attendees will be invited to join in and nominate their own London songs. Tickets are FREE, though spaces are limited and you'll need to register on the Eventbrite page. There may even be tea and coffee supplied, though I'll need to look into that.
Anyway, here's the official blurb: Unlocking Our Sound Heritage (UOSH) is a National Lottery funded project aiming to preserve the UK's most rare and at risk sound recordings. Here at London Metropolitan Archives (LMA) we are proud to be one of ten regional hubs for the UOSH project, digitising and cataloguing some of the capital's most extraordinary audio collections.
Inspired by the different types of music we've digitised as part of the project, this FREE evening talk will explore how important music is to our experience of London and understanding of its history. We will be joined by a panel of guest speakers who will each pick one piece of music that represents London to them. From old music hall songs to the influence of calypso, ska and reggae, through to the emergence of jungle – all music is welcome! Ahead of the talk we invite you to think about the type of music you most associate with the capital. What would be the playlist of your London?
Can you, dear reader, guess which person will be talking about Jungle?! Hope to see you there, and do make sure you pop your thinking caps on and tell us about your own favourite London song – or add to the conversation over on the LMA Twitter feed if you can't make it in person. Speaking of Twitter, do feel free to subscribe to @LdnMetArchives if you haven't done so already, along with our London's Sound Heritage blog it's the best way of keeping up to date with this most fascinating of projects. To whet your appetite here are a couple of highlights from the tapes I've recently been working with, starting with this little beaut from the 1950s. The subject in question was the speaker's memories of being a Prisoner of War and the tricky decision as to how to spend one's incarceration – playing bridge or improving one's mind via classic literature, with access to both apparently not being an issue at all – sounds pretty cushy. And while it's true that reverence for the content of these tapes always takes precedence over the physical carrier itself, on this special occasion it was a pretty close call:
Exciting day on #SaveOurSounds as we find our first ever tape reel made from oxide-coated PAPER. This recording, purportedly from 1952 hasn't dated nearly as badly as you might think. That said, can you work out the opening line of speech on this 'magic ribbon'? @BLSoundHeritage pic.twitter.com/jaBpxwwNnD

— LdnMetArchives (@LdnMetArchives) September 5, 2019
https://platform.twitter.com/widgets.js
Secondly, the most recent addition to our regular #TapeBoxTuesday feature, which has been making me laugh all week. There's actually another two full minutes of this lengthy account on the recording, hopefully I'll get to share the full thing with you at some point. The Brent County Show of 1977 really must have been quite a happening:
'There was a fight in one of the flower tents…'

This week's #TapeBoxTuesday comes from 'Brent In Sound', a 1977 magazine for members of the community who have a visual impairment. In this edition, there's high drama at the Brent Country Show: @BLSoundHeritage #SaveOurSounds pic.twitter.com/OP89OJlwld

— LdnMetArchives (@LdnMetArchives) September 10, 2019
https://platform.twitter.com/widgets.js
Meanwhile, over the the blog we have an interview with Mr. Ian Rawes of the London Sound Survey, to celebrate both the donation of a huge body of his recordings to the London Metropolitan Archives and also the recent release of Thames, his superb LP of field recordings made along the great river. Ian chats to UOSH project volunteer and sound recordist Paul Skinner about the origins of the project, his work capturing the many and varied sounds of the city, the changing nature of the London soundscapes and there's even some tips for aspiring field recordists too. Read their fascinating chat in full here.